Excited to announce the upcoming publication of my next book,
COOKING SOUTH OF THE CLOUDS
Recipes and Stories from China's Yunnan Province
(Coming Sept 2018 from Kyle Books….)
For more information, visit the China South of the Clouds link above to learn about my research and travels in Yunnan.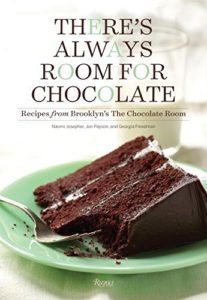 THERE'S ALWAYS ROOM FOR CHOCOLATE
co-written with Jon Payson and Naomi Josepher of The Chocolate Room (Rizzoli)
83 Phenomenal recipes for classic American chocolate desserts from the world's best chocolate layer cake to the brownie sundae of your dreams, as well as tips and detailed instructions to help the home baker achieve effortless, picture-perfect results.
Available on Amazon.com
"I've worked with The Chocolate Room for more than a decade. High quality and artistry have been the foundation of their success since day one. They take all-American chocolate desserts to the next level. If I had to pick my last meal, it would start with an appetizer of their mint chocolate chip ice cream, followed by a main course of their caramel popcorn, and then of course, their world-famous chocolate cake to finish."
– Fritz Knipschildt, author of Chocopologie
"A restaurant devoted solely to chocolate? And it's beyond good? And now they are sharing their secrets? I am ecstatic. The Chocolate Room's chocolate layer cake alone is to die for. Actually, I die and go to chocolate heaven each time I walk into their place of pure chocolate joy."
-Rosie Perez, author of Handbook for an Unpredictable Life
"The Chocolate Room creates confections and dishes that are at once both simply delicious and fun to eat, while still being painstakingly made by hand using high quality ingredients and incredible amounts of technique. Their serious approach to crafting fine chocolates and desserts while not taking themselves too seriously is probably the biggest reason to love The Chocolate Room. Well, that and their mint chocolate chip ice cream."
-Adam Richman, author of Straight Up Tasty and America the Edible, and food and travel host for Travel Channel and NBC