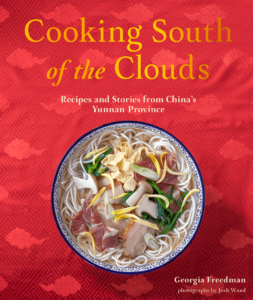 COOKING SOUTH OF THE CLOUDS—
Recipes and Stories from China's Yunnan Province (Kyle, 2018)
(Purchase here)
Georgia Freedman unveils China's best-kept culinary secret, giving us a rare glimpse into the cooking of Yunnan province. More than a cookbook, it's an intimate journey through culinary traditions almost unknown in the West. Josh Wand's photos of the region's countryside, villages, markets, and dishes paint a stunning portrait of Yunnanese cuisine and life. Cooking South of the Clouds deserves a place of honor in every collection of Chinese cookbooks.
— Grace Young, James Beard Award-winning author of Stir-Frying to the Sky's Edge
A fascinating and wide-ranging exploration of China's most diverse cultural and culinary region, packed with local recipes, lively descriptions and useful background information. Gorgeously photographed by Josh Wand, Cooking South of the Clouds will put Yunnan on the map for English-speaking readers.
— Fuchsia Dunlop, author of the critically-acclaimed cookbooks Land of Plenty, Revolutionary Chinese Cookbook, and Every Grain of Rice: Simple Chinese Home Cooking
How thrilling to have Yunnan's rich food traditions explored and explained in such generous detail, with warmth and understanding. The book is loaded with enticing recipes and photos that will please both cooks and armchair travellers. It's a great guide to this gateway to southeast Asia, where people of many cultures have found a home and created a multi-layered cuisine that I find endlessly fascinating.
— Naomi Duguid, author of Burma: Rivers of Flavor, and Taste of Persia
In Cooking South of the Clouds, Georgia Freedman presents a thorough primer and loving homage to one of China's most intriguing and delicious regions. Buy this book if you've visited or thinking of visiting Yunnan, or if you want to expand your knowledge of Chinese cuisine.
— Andrea Nguyen, author of Into the Vietnamese Kitchen and The Pho Cookbook
Cooking South of the Clouds: Stories and Recipes from China's Yunnan Province takes the reader on a captivating journey into the little-known foodways of China's most ethnically and climactically diverse province. Employing a traveller's eye for the unique, a journalist's attention to detail, and a cook's antennae for deliciousness, author Georgia Freedman has filled her cookbook with surprising and enticing recipes interspersed with engaging profiles of Yunnan's cooks, farmers, and food artisans and concise enlightening essays on the province' history, ethnic and religious cultures, and key ingredients. Josh Wand's stunning images of people, places, and dishes round out Freedman's lyrical narrative beautifully. Cooking South of the Clouds is a cookbook to curl up with, keep on the night table and, most importantly, have at the ready in the kitchen. Freedman's evident passion for Yunnan, its people and its cuisines, along with her depth of research and breadth of knowledge, place her firmly alongside such recognized Chinese cuisine experts as Grace Young and Fuchsia Dunlop.
— Robyn Eckhardt, author of Istanbul and Beyond and EatingAsia.com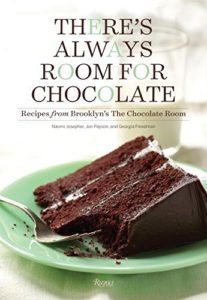 THERE'S ALWAYS ROOM FOR CHOCOLATE
co-written with Jon Payson and Naomi Josepher of The Chocolate Room (Rizzoli)
83 Phenomenal recipes for classic American chocolate desserts from the world's best chocolate layer cake to the brownie sundae of your dreams, as well as tips and detailed instructions to help the home baker achieve effortless, picture-perfect results.
Available on Amazon.com
"I've worked with The Chocolate Room for more than a decade. High quality and artistry have been the foundation of their success since day one. They take all-American chocolate desserts to the next level. If I had to pick my last meal, it would start with an appetizer of their mint chocolate chip ice cream, followed by a main course of their caramel popcorn, and then of course, their world-famous chocolate cake to finish."
– Fritz Knipschildt, author of Chocopologie
"A restaurant devoted solely to chocolate? And it's beyond good? And now they are sharing their secrets? I am ecstatic. The Chocolate Room's chocolate layer cake alone is to die for. Actually, I die and go to chocolate heaven each time I walk into their place of pure chocolate joy."
-Rosie Perez, author of Handbook for an Unpredictable Life
"The Chocolate Room creates confections and dishes that are at once both simply delicious and fun to eat, while still being painstakingly made by hand using high quality ingredients and incredible amounts of technique. Their serious approach to crafting fine chocolates and desserts while not taking themselves too seriously is probably the biggest reason to love The Chocolate Room. Well, that and their mint chocolate chip ice cream."
-Adam Richman, author of Straight Up Tasty and America the Edible, and food and travel host for Travel Channel and NBC