I teach a variety of cooking classes to private clients and through the San Francisco-based non-profit 18 Reasons. To inquire about a private (Zoom) class or cooking demo, please contact me at georgia@georgiafreedman.com.
Recent Classes: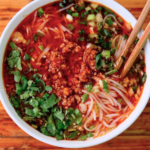 ZOOM CLASS: Foods of Yunnan: The Sweet Savory Spicy Flavors of Zajiang Noodle Soup
(through 18 Reasons)
What's better than a bowl of noodle soup? In this class, we'll make all of the components for Western Yunnan-Style Zajiang Mixian, a sweet, savory, spicy rice noodle soup from China's border with Myanmar. The dish combines the savory flavors of chile-bean paste with the bright fresh flavors of herbs and greens, an aromatic hit from garlic and ginger, and a little bit of tingling spiciness from Sichuan peppercorns and freshly-made chile oil.
Dates: Sunday, February 21, 2021, 4pm – 6pm(PST) SOLD OUT
Saturday, March 20, 2021, 10am – 12pm(PST)

ZOOM CLASS: Sweet and Savory Spring Pies
(through 18 Reasons)
This spring, we'll be playing with two forms of pie: a classic quiche and a simple (but stunning) strawberry rhubarb pie, both using the same dough for their crusts. The result is full meal fit for an intimate Easter brunch or an afternoon tea with friends (outdoors, of course).
MENU: Strawberry Rhubarb Pie with Frosted Flowers, Mushroom and Onion Quiche with Gruyere, Green Salad with Herbs and French Vinaigrette
Dates: Sunday, March 28, 2021, 10am – 12:30pm (PST)

ZOOM CLASS: Chocolate Gifts for the Holidays
Who doesn't like receiving chocolate during the holidays? In this class, we'll make bags of sweets perfect for hostess gifts and stocking stuffers, including a spiced cocoa mix; homemade marshmallows; and some sweet, crunchy caramel popcorn drizzled with chocolate (no tempering necessary).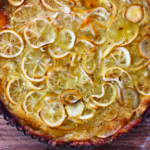 ZOOM CLASS: California Pies
Add a twist to the pie table this holiday season by embracing the flavors of two of California's most coveted fruits: Meyer lemons and avocados. We'll use two super simple press-in crusts to make modern twists on classic desserts that can be made in just a couple of hours.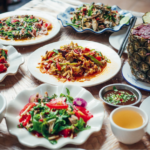 ZOOM CLASS: Flavors of Yunnan—Simple Recipes from China's Border with Myanmar and Laos
China's Yunnan Province is a small, mountainous region that sits right where East and Southeast Asia meet. Yunnan is the most culturally and biologically diverse part of Asia, and the region is quickly becoming one of China's top spot for food-focused tourism.
This class will take us on a trip to China's borders with Myanmar and Laos. The recipes (taken from Georgia's cookbook, Cooking South of the Clouds) are flavored with lots of fresh herbs and chiles and offer a relatively simple way to start to appreciate this subtropical region's flavors and cooking techniques. If you're interested in purchasing the book, support our friends at Omnivore Books and find the book here.